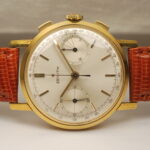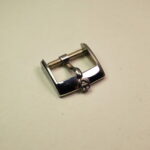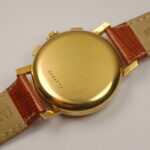 (Italiano) GIRARD PERREGAUX valigetta da cassaforte – 18 vani portaorologi – anni '70 – buone condizioni di conservazione
140,00€
Description
(Codice articolo GirardPerregaux008)
Valigetta portaorologi Girard Perregaux, fornita ai concessionari ufficiali  per riporre gli orologi in cassaforte, consente l'alloggiamento di 18 orologi anche con bracciale metallico. Un cuscinetto portaorologio interno è mancante. La scatola è rivestita in materiale tipo pelle di colore rosso ed ha due placche in ottone dorato marcate Girard Perregaux sia esternamente che internamente, il coperchio interno presenta anche la scritta Girard Perregaux " Le Cronometrier ". Usata in buone condizioni di conservazione..
Epoca: presumibilemnte anni '70;
Condizioni: usata, in buone condizioni di conservazione, mancante di uno dei 18 cuscinetti porta orologio;;
Dimensioni esterne: cm 40 x 27 x 5,5h ( la scatola presenta 18 vani portaorologi uno di questi e privo di cuscintetto)
Spese di spedizione: da aggiungere – corriere espresso (tracciabile – consegna in Italia in 24/48 ore) alle condizioni consultabili in home page. We send watches and accessories all over the world by express courier, write me for price or information.
GARANTIAMO LA TOTALE ORIGINALITA' DEI NOSTRI ARTICOLI.