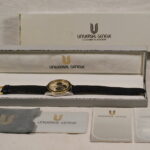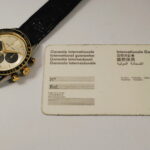 (Italiano) Longines astuccio in pelle – produzione moderna – rimanenza di magazzino
29,00€
Description
(Codice articolo Longines057)
Astuccio in pelle bianca per orologi Longines , idoneo per orologi da uomo e da signora di produzione moderna/attuale.  Portaorologio interno. Marcata Longines sul lato esterno. Rimanenza di magazzino.
Epoca: attuale produzione;
Condizioni: inusato, rimanenza di magazzino;
Dimensioni esterne dell'astuccio: cm 10,4 x 5 x 7,3h;
Spese di spedizione: da aggiungere – corriere espresso (consegna in Italia in 24/48 ore – tracciabile). We send watches and accesories all over the wold, ask us for price;
GARANTIAMO LA TOTALE ORIGINALITA' DEI NOSTRI ARTICOLI.