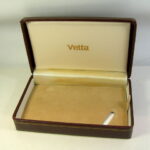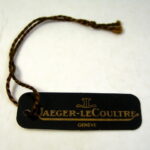 OMEGA box for classic men's watches, even in large diameters – NEW OLD STOCK from 80's / 90's
60,00€
Description
( item code Omega136 )
OMEGA box, red, marked Omega internally, for classic men's watches even of large diameter. The box is in exceptional storage conditions as it is a stock remaining from the 1980s to the 1990s.
Age: 80s – 90s;
Conditions: never used – remaining stock from the 80s – 90s;
External dimensions of the box: external diameter 25 x 6.5 x 2.8h.
Shipping costs: to be added – express courier (traceable – delivery in Italy in 24/48 hours) to conditions available on the home page. We send watches to the world by express courier, write me for price or information.
WE GUARANTEE THE TOTAL ORIGINALITY OF OUR ITEMS.