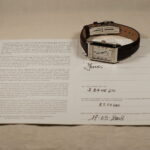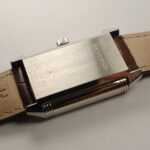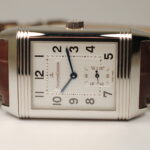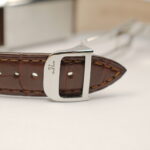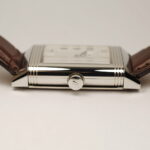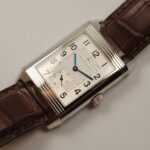 ( RESERVED ) PAUL PORTINOUX rare waterproof chronograph with medical dial – caliber Valjoux 22 – exceptional storage conditions – 50s
3.600,00€
Description
(Item code PaulPortinoux001)
PAUL PORTINOUX rare single push-button medical chronograph with waterproof steel case. The chronograph functions are activated by a single button that determines the activation, stopping and resetting of the chronograph. Original medical dial with pulsometric scale. Crown diameter 37mm excluded. Mechanical hand-wound movement caliber Valjoux 22, regularly punched Paul Portinoux on dial, case and mechanics. Watch in really incredible general condition (9.5 / 10), with a case never restored or polished, with perfect gloss and satin finishes, sharp edges, without relevant marks or dents. Mechanics intact, perfectly functioning as a watch and chronograph.
Age: presumably the 1950s;
Case: steel waterproof in three parts. Screw-down caseback with the following external incisions: all steel case – water and condensationproof – serial number. Internally we find: Paul Portinoux Watch C ° – Swiss Made. The case is presented in exceptional general storage conditions (9.5 / 10), never minimally restored, with perfect gloss and satin finishes and sharp edges. Case dimensions: net diameter 37 mm (excluding crown) x 44 mm (from handle to handle);
Dial: original medical, silver base with light and uniform patina of time. Peripheral Pulsometric Scale in three colors black, red and green, with written Base 10 pulsations – Medical Pulsometer. At 12 o'clock: logo and writing Paul Portinoux – Medical. At 6: 17 Jewels – incabloc – Swiss Made. Incic steel applied alternating with a bar and Arabic numerals. Alpha type steel balls, with central tritium treatment. The dial is perfectly preserved and very pleasant;
Movement: mechanical with manual winding caliber Valjoux 22 and punched Paul Portinoux Watch C ° on the bridge. Mechanics practically untouched perfectly functioning as a watch and as a chronograph;
Strap: gray, new, flat and modern production lizard skin;
Shipping costs: to be added – express courier (traceable – delivery in Italy in 24 hours) and insurance on customer's request at the cost available on the homepage. We send watches for the world by express courier, write us for price and information.
WE GUARANTEE THE TOTAL ORIGINALITY OF OUR ITEMS.