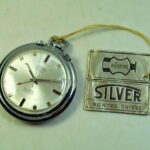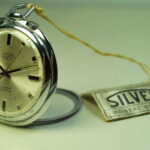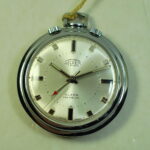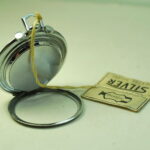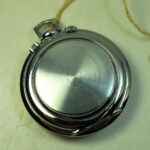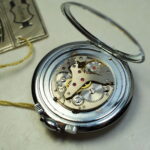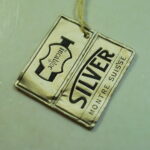 (Italiano) SILVER " ALARM " orologio da tasca con funzione di allarme/sveglia – meccanico a carica manuale – RIMANENZA DI MAGAZZINO anni '60/'70
320,00€
Description
(Codice articolo Silver002)
Orologio da tasca Silver " alarm " parte del fondello incernierato e a forma di anello consernte di essere ruotato e fungera da supporto, in questo modo l'orologio può essere collocato sul comodino e consente l'immediata visualizzazione dell'orario e consente di essere utilizzato come allarme / sveglia. La suoneria indicata dalla sfera a triangolo di colore rosso è regolabile e caricabile indipendentemente tramite la corona ad ore 11. L'orologio meccanico a carica manuale è in eccezionali condizioni di conservazione in quanto rimanenza di magazzino anni '70.

Epoca: presumibilmente fine anni '60 anni '70;
Cassa: doppia cassa con anello di supporto a cerniera e fondello chiuso a scatto. Il fondello sul lato interno presenta la referenza ed il piolino per la suoneria. Dimensioni esterne della cassa: diametro netto 42 mm ( corone escluse ). Orologio in eccezionali condizioni di conservazione in quanto RIMANENZA DI MAGAZZINO anni '60 / '70;
Quadrante: argentee con indici applicati in acciaio, quadrati e a barra. Sfere in acciaio a bastone con parziale trattamento al tritio. Sfera della suoneria di colore rosso. Grafica stampata in nero con minuteria aperta, ad ore 12 scritta Silver – 17 rubis. Ad ore 6:  Alarm – Incabloc – T Swiss made T. Quadrante perfetto privo di difetti;
Movimento: meccanico a carica manuale, intonso e perfettamente funzionante;
Vetro: plexy;
Spese di spedizione: da aggiungere – corriere espresso (tracciabile – consegna in Italia in 24/48 ore) alle condizioni consultabili in home page. We send watches and accessories all over the world by express courier, write us for costs and information;
GARANTIAMO LA TOTALE ORIGINALITA' DEI NOSTRI ARTICOLI.