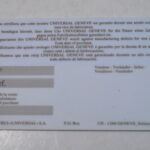 UNIVERSAL GENEVE certificate of guarantee to be completed – a card – for watches and chronographs from the 80s – 90s
150,00€
Description
( item code UniversalGeneve005 )
Universal Geneve international card guarantee, white, not completed. IFor watches and chronographs from 80s / 90s.
Age: presumably 80s – 90s;
Conditions: inventory remaining in perfect condition;
Dimensions: 8.5 x 5.5 cm:
Shipping costs: to be added – fast postal or express courier (traceable, delivery in Italy in 24/48 hours) to the conditions available on the home page. We send watches and accessories all over the world by express courier.
We guarantee the total originality of our articles.