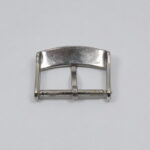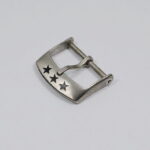 ( SOLD IN ITALY ) UNIVERSAL GENEVE rare buckle for watches and chronographs from the 50s / 60s – 16mm internal handle – exceptional storage conditions
Description
( item code UniversalGeneve010 )
Universal Geneve rare buckle for watches and men's chronographs presumably 50s – 60s, yellow gold laminated, 16mm handle (inside) – punches on the inside: Swiss – deposè – plaquè g – manufacturer punch AW. It is an original Universal Geneve product in exceptional storage conditions.
Age: Presumably the 50s – 60s;
Conditions: exceptional storage conditions;
Dimensions: 16mm internal handle;
Shipping costs: to be added – express courier (traceable – delivery in Italy in 24/48 hours) to the conditions available on the home page. We send watches to the world by express courier, write me for price or information.
WE GUARANTEE THE TOTAL ORIGINALITY OF OUR ITEMS.