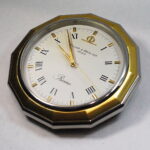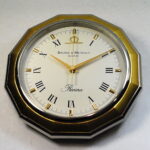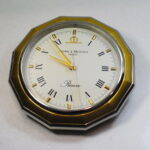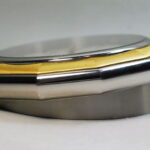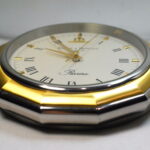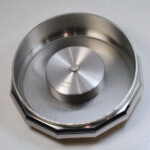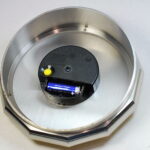 (Italiano) BAUME ET MERCIER " RIVIERA " orologio da tavolo – ottime condizioni di conservazione
340,00€
Description
(Codice articolo BaumeEtMercier006)
Elegante orologio da tavolo o da scrivania Baume Et Mercier " Riviera " cassa in ottone nichelato e luneta laminata in oro giallo. Riproduce come forma la cassa del noto orologio "Riviera" da polso. Quadrante chiaro con indici stampati a numeri romani. L'orologio presenta il basamento inclinato in modo da facilitarne la lettura . Le condizioni generali sono ottime, l'orologio è alimentato con una normale pila da 1,5 volts.

Epoca: produzione moderna, indicativamente anni '90;
Quadrante: bianco avorio, con doppi indici applicati in oro giallo e stampati in nero a numeri romani. Sfere triangolari in oro giallo. Ad ore 12: Baume & Mercier – Geneve. Ad ore 6: Riviera – Swiss made. Quadrante perfetto privo di difetti;
Movimento: a batteria, protetto da una capsula in acciaio fissata con una vite asportabile manualmente, ed alimentato da una semplice pila da 1,5 volts;,
Vetro: in vetro, piatto;
Dimensioni esterne: diametro cm 12,5 circa – altezza minima cm 2,6 – altezza massima cm 4,1;
Spese di spedizione: da aggiungere – corriere espresso (tracciabile – consegna in Italia in 24/48 ore) alle condizioni consultabili in home page. We send watches and accessories all over the world by express courier, write me for price or information.
GARANTIAMO LA TOTALE ORIGINALITA' DEI NOSTRI ARTICOLI.