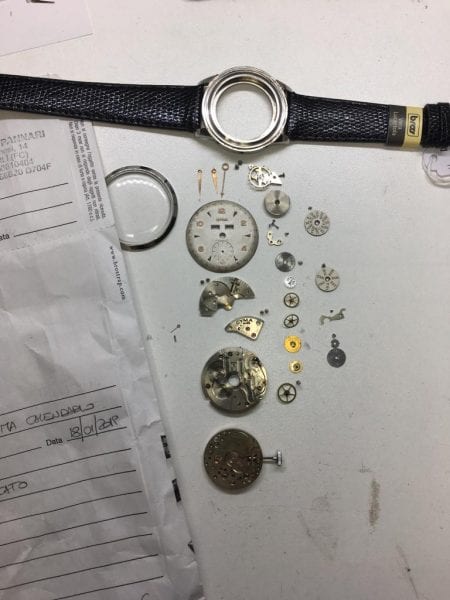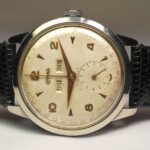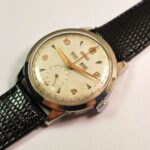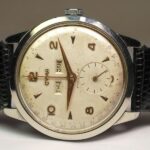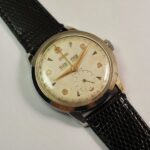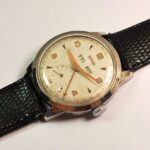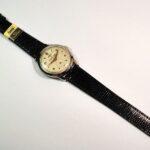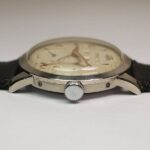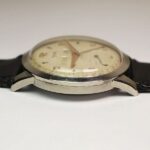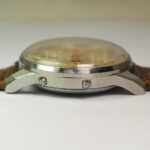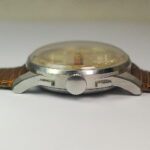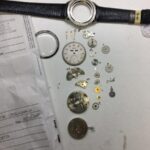 ( SOLD IN ITALY ) CYMA "Cymaflex" triple date (day – month – date) – steel case – production of the 50s
Description
( Item code Cyma005 )
CYMA "CYMAFLEX" watch complete calendar with indication of date, day of the week and month with second pills at 6 o'clock, steel case with closed snap-lid. Original silvery dial with beautiful patina of time, applied andicias and yellow gold spheres. Watch in excellent condition of conservation, regularly marked on the dial, case and movement, fully functional as a watch and in all the complications, which occur during the running of the watch automatically or quickly, by operating the relative buttons on the carrure.
"The watch has an indication of the day of the week and month with a double window at 12 o'clock, and indication of the peripheral date of the dedicated hand with an arrow end.The remittance of the month takes place in rapid mode by means of a push-button at 2 o'clock. quick day of the week, it takes place quickly by means of a pushbutton at 4 o'clock. The throw-in of the date takes place with the rotation of the spheres ".
Case: in three bodies, in steel. Steel snap-lock back. The back is punched on the inside with the "Cyma watch C °" logo – Stainless Steel – Swiss made – serial and reference. Casing dimensions: diameter 34 mm (excluding crown) x 39mm (from handle to handle). The general conditions of conservation are excellent;
Dial: original, silvery with beautiful and unifrme patina. Arrowheads in yellow gold applied alternating with Arabic numerals in yellow or yellow, Aplha type spheres in yellow gold. Graphic printed in black, at 12: written Cyma applied in yellow gold, window of the month and window of the day of the week, at 6: Cymaflex – Swiss made and small seconds;
Movement: mechanical with manual winding of 17 rubies, caliber Cyma R. 455, marked Cyma / Tavannes Watch C ° and numbered on the strap. The clock works perfectly as a clock and in all its complications;
Strap: generic in black lizard, new Italian production with steel genital buckle;
Shipping: to be added – express courier (traceable – delivery in Italy in 24/48 hours) to the conditions available on the home page. Send me for price or information.
WE GUARANTEE THE TOTAL ORIGINALITY OF OUR ITEMS.