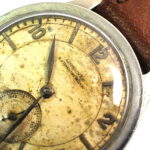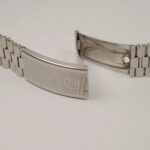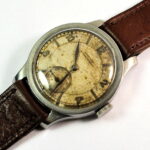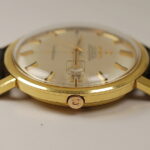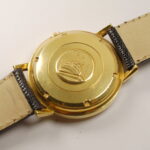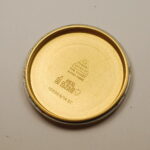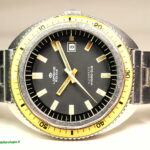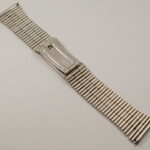 LONGINES steel " calatrava " case customized for " B. BERNASCONI – MILANO " produced in 1938
1.180,00€
Description
( item code Longines020 )
Longines watch with steel case type Calatrava, original dial with customization for watchmaking "B. Bernasconi – Milan "with small seconds at 6 o'clock, Manual Longines 12.68Z manual caliber. The identical repeating movement number on the inside backline marks the production of this rare watch in the year 1938. The watch is original in every part perfectly working and has a stock extract released by Longines in 2017.
Age: produced in 1938;
Case: Stainless steel type, with snap-locked steel base. The bottom has internally the following engravings: acier inox – staybrite and serial number (the same engraved on the mechanics). Anse fixed. Anonymous original crown. Case dimensions: net diameter 32 mm (excluding crown) x 40 mm (from handle to handle). The case is in conservation conditions more than good, with normal signs of time and free of dents or significant signs.
Dial: a very rare original dial with a clear glimpse of time, at 12 o'clock it is written Longines – B. Bernasconi – Milan. Barred steel indexes alternating with Arabic numerals, original leaf steel spheres and small seconds at 6 o'clock. The dial is absolutely original, the writing is all perfectly legible and the weather patina, albeit obvious, is uniform, Clock overall is very enjoyable;
Movement: manual winding, Longines 1268Z caliber, numbered. The numbering is the same engraved on the inner back and dates back to the construction of the clock in 1938. The mechanics are completely original and perfectly functional;
Glass: plexyglass;
Strap: generic brown leather for fixed pins;
Kit: the watch is sold sold with the archive extract released by the motherboard where the orignality of the whole watch is evident;
Shipping costs: to be added – we ship watches and accessories in Italy and around the world by express courier, fast and traceable deliveries. Express courier (traceable – delivery in Italy in 24/48 hours) – delivery in Europe (1 – 3 working days) – non-EEC country (4-6 working days), at the conditions available on the home page.
WE WARRANT THE TOTAL ORIGINALITY OF OUR ARTICLES.